We will be using this page to publish updates on developments in our community in the fight against coronavirus.
🚨 NP Alerts 🚨
 If you're worried about fraudsters claiming to be from NHS Test and Trace – take note of this advice.
📞If NHS Test and Trace calls you it will be from their single number 0300 0135 000
💻The only website to visit is: contact-tracing.phe.gov.uk
⚠️Contact tracers will never ask you to do the following
We're pleased to advise that we now have a prescription collection service for Hexhamshire. Full instructions on how the system works are below – prescriptions will be collected from Boots, Tesco or Lloyds on Thursdays: please phone or text 07836 580902 on Wednesday evening to let us know you have a prescription waiting. You will also need to let the pharmacy know that you give your permission for us to collect it, and to pay if required. Huge thanks to Emma Wright for doing all the hard work in setting this up. If you have any questions just message us.
Useful COVID-19 Links
Small Business Grants Fund (SBGF) and Retail, Hospitality and Leisure Grant Fund (RHLGF).  Further information can be found at https://www.northumberland.gov.uk/Business/Grants/Grants-Funding.aspx
The Federation of Small Businesses (FSB) have an excellent page on their website which focuses upon the difficulties, both domestic and commercial, that you are all experiencing.  This can be found at https://www.fsb.org.uk/campaign/covid19.html.
If you are self-employed and have lost your main source of income, you may need to consider applying for Universal Credit (UC).  The link is here: https://www.universal-credit.service.gov.uk/postcode-checker.  There is likely to be a Housing Benefit element which may help to cover private domestic rental payments.  Should you have a mortgage, your mortgage provider will be working with the government to secure a three month mortgage repayment holiday.
A reminder of all essential businesses can be found at
https://www.gov.uk/government/publications/further-businesses-and-premises-to-close/further-businesses-and-premises-to-close-guidance.
Check the government website at https://www.gov.uk/government/publications/guidance-to-employers-and-businesses-about-covid-19/covid-19-support-for-businesses for all of the latest updates.
For vehicle owners https://www.gov.uk/government/news/vehicle-owners-to-be-granted-mot-exemption-in-battle-against-coronavirus
Guidance https://www.gov.uk/government/publications/coronavirus-covid-19-guidance-on-business-support-grant-funding?utm_source=31ecba7c-5660-43ca-b2cd-6a52ccc8275b&utm_medium=email&utm_campaign=govuk-notifications&utm_content=immediate
Hospitality Action emergency grants for hospitality.  Closed to applications at the moment however that may change
https://www.hospitalityaction.org.uk/get-help/
Charity Sector https://www.gov.uk/government/news/coronavirus-covid-19-guidance-for-the-charity-sector
Communication around dealing with fake messages/ scams
https://www.ofcom.org.uk/about-ofcom/latest/features-and-news/coronavirus-scam-calls-and-texts
While the church is closed, we will publish the readings, notices and Andrew's sermon here. https://www.hexhamshire.org.uk/church/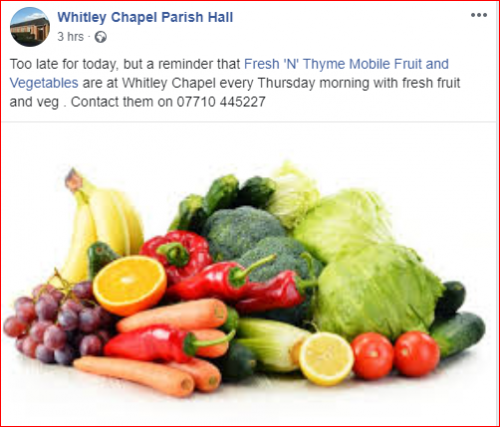 If you want to keep the little grey cells functioning, Claire has had the brilliant idea of making the quiz she, Dan and Lewis ran in the hall, available on line at https://whitelychapelquiz.wordpress.com/. The answers are here too.
No cheating!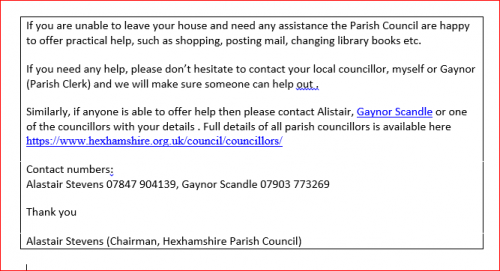 Alternatively please complete this form and email/print it out and send to Gaynor on gaynor.scandle@yahoo.co.uk