We hope to be able to hold our Christmas Fair again this year, on Sunday 5 December.  More details to follow.
COVID-19 STATUS UPDATE
All community events and activities and private hires can now take place, with risks to be managed by hirers through good ventilation, encouraging social distancing, hand washing and use of hand sanitiser. The capacity of the hall and meeting room can revert to non Covid levels ie a maximum of 120 – 140 in the main hall (dependent on layout), and a maximum of 60 in the meeting room.
Use of face coverings remains advisable in confined spaces such as toilets, kitchens and corridors and at more crowded events. At some activities or events, measures such as wearing face masks and social distancing might be taken, so that people who are clinically more vulnerable or not yet fully vaccinated can attend. Please be considerate of those who are more vulnerable and who may wish to take a more cautious approach.
Pending more detailed guidance, the hall will retain the physical measures already in place. Test and Trace will be retained and we will continue to display QR codes. Hand sanitiser stations will remain and we will display posters requiring face coverings on entry. We will continue with more frequent cleaning of regularly touched surfaces, so that people feel comfortable returning to the hall.
Social distancing rules can be lifted to a level which feels appropriate for the activity, such as audience seated performances or wedding receptions with dancing and singing, whilst making provision for the more vulnerable and non-double vaccinated.
The responsibility for ensuring these measures are observed remains with the event organiser at all times.
Thank you for your continued support.
The Trustees
Whitley Chapel Parish Hall Charitable Trust
23 August 2021
The Hall has been the centre of Hexhamshire life for generations, hosting community groups, dances, classes, weddings, parties – the list is endless.
It was built by public subscription in 1932 as a memorial to Shire men who lost their lives in World War One.  The builder was Thomas Charlton of Juniper, and the total cost was £837/5/7.  It was then enlarged and improved in early 2000.
The Parish Hall provides excellent facilities for a diverse range of user groups of all ages and interests, from the Young Farmers to the Womens' Institute, the Bowls Club and the school. It is also well used by private individuals for birthday parties, weddings, family events and funeral teas, and is regularly used for dances, concerts, stage productions and other club and charity fund raising events
The hall facilities consist of:
| | |
| --- | --- |
| Main Hall excluding stage | 15 x 7m. Capacity 120 - 140 (depending on layout) |
| Meeting room: | 7.5 x 6 m Capacity 60 people |
| Supper room: | 7 x 4.5 m Capacity 40 people |
| Kitchen 1: | 7 x 2.7m equipped with range cooker, refrigerator, microwave, hot water boiler, commercial dishwasher and place settings for 110 people. |
| Kitchen 2: | 4 x 2.5 m equipped with sink, hot water boiler for beverages, large refrigerator and serving area which is regularly used as a bar |
| Toilets, storage areas | |
| Access | wheelchair access and disabled toilet facilities are available |
Facilities & equipment:
In the main hall there is a fully equipped permanent stage with curtains, theatre lighting and a full audio system. There are tables and chairs for seating up to 120 people and it can be dressed to provide an attractive venue for weddings and other special occasions. A large portable screen for showing films is also available.
The meeting room is equipped with an overhead projector which can be connected to a laptop, and is ideal for both community and off-site business meetings. It can be divided if required by means of a folding partition wall. Flexible seating can be easily arranged for conference or breakout meetings. Catering can be arranged if required.
There are two kitchens, one equipped for the preparation and serving of food and the smaller separate kitchen area which serves as a bar or for the preparation of beverages and snacks
Licence: The hall is licenced for the performance of plays, showing of films, performance of live and recorded music and dance, making of music, and similar entertainment, provision of late night refreshments and the sale by retail of alcohol.
Parking: Parking is available on Leazes Lane
Wi-fi and mobile phone coverage: free wi-fi is available, and there is good mobile phone reception
Post code: The full address of the Hall is Leazes Lane, Steel, Hexham NE47 0HB
Redecoration
The long overdue redecoration of the hall took place in January – February 2020, and even if we say so ourselves, it looks great.  A huge thanks to Hexhamshire WI who made a very generous donation towards the cost of the new curtains, and to Ali Stobbs who did all the painting virtually singlehandedly.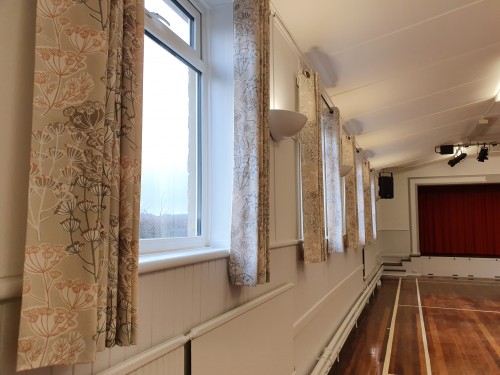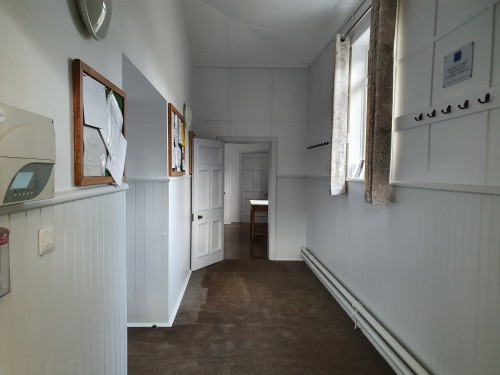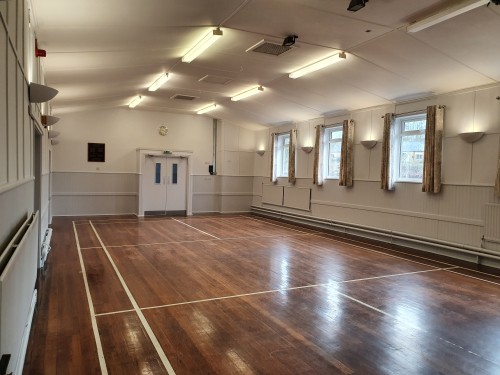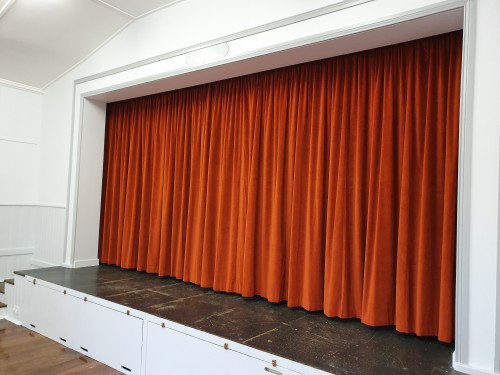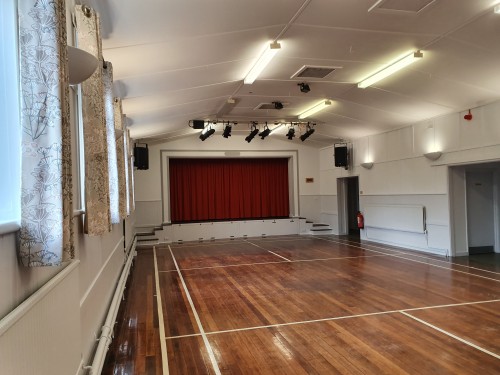 The kitchen 
Councillor Colin Horncastle shows off his culinary skills!  During the interval of an Evening of Entertainment on Saturday 18 February 2017 organised by the Leek Club and the WI, County Councillor Colin Horncastle performed the official opening of the new kitchen; dressed in a chef's outfit he demonstrated  his culinary expertise to the audience!
The kitchen, designed to comply with hygiene regulations, has been completed at a cost of £17,400. We hope it will serve the needs of the community for many years to come.
Councillor Horncastle kindly donated £4,500 towards the cost from the County Council Members' Local Improvement Scheme Initiative. Other grants were received from The White Stuff Foundation, The Joicey Trust, The Winter Family Grassroots Fund and The John Bell Fund.
Whilst 83% of the cost came through grants, the balance came from fund raising activities organised by the Leek Club, The Young Farmers and through the continuing support of members of the 100 Club.
A big thank you to everyone for their support