On Saturday 19 February 2022 filming of 'Clipping the Church' took place at St Helen's for the BBC programme 'Jill Halfpenny's Easter Walks.  There was a tremendous turnout, and we were able to completely encircle the church.  A few photos below.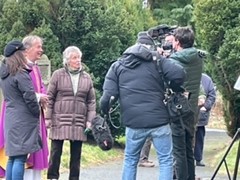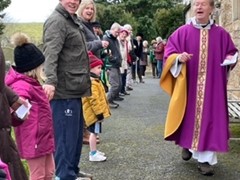 Mothering Sunday 2018 
Full details of the celebrations, and the ancient custom of 'clipping' the church, can be found here http://calendarcustoms.com/articles/whitley-chapel-clipping-the-church/
Deanery Pilgrimage 2017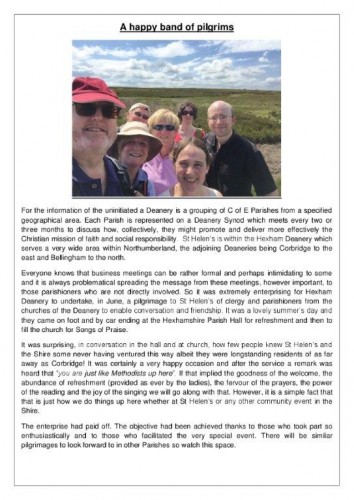 Mothering Sunday 2017
Now give Mummy a big hug.
How often do you recall being embarrassed by this demand? However there was nothing but enthusiasm and laughter for the large congregation at St Helen's on Mothering Sunday when young and older joined hands to form a circle round the outside of our "mother church" to give it a big hug in a revival of a custom called "clipping" dating back some 350 years.
In those days Mothering Sunday (or Mother's Day as it is more generally called now) was an occasion when folk in the countryside had a day off from work like Mums now have their breakfast in bed (so I am told!) and are taken out to lunch. 350 years ago folk could break their Lent fast, like we perhaps have a sneaky bit of chocolate before Easter. They celebrated the occasion by eating simnel cake and when going to church the children would gather flowers on the way to decorate it before giving it a big hug just as we did this year.
We had a very special simnel cake specially made for us by Jo Common of Noisette Catering along with other cakes, tea, coffee and soft drinks. Babies and toddlers were there and young people took a full part in the service reading the lesson and presenting flowers, prepared by them, to all the ladies who were there.
Of course we remembered in the family service our own mother and mothers everywhere but I guess this year Mothering Sunday at St Helen's will be remembered for the big hug. Let's hope that it will be repeated over many more years to come and that it will be a lovely sunny day again too!
Peter McKendrick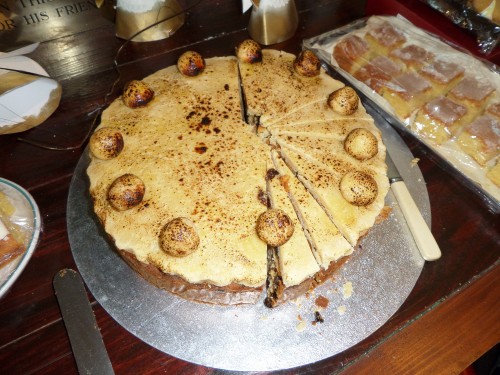 Palm Sunday 2017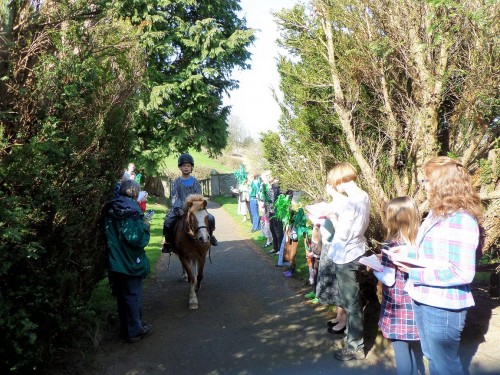 Nativity play 2016